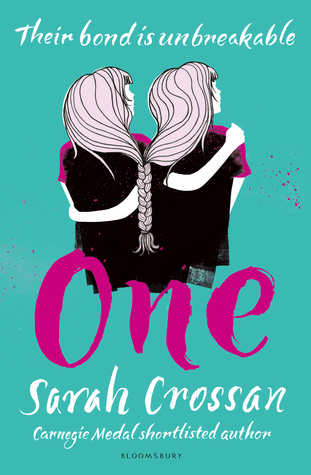 Author: Sarah Crossan
Publisher: Bloomsbury
Published: 27th August 2015
Source: Owned
Genre: YA, Contemporary
Date read: 26.09.2015
synopsis:
Grace and Tippi are conjoined twins, after being homeschooled for 16 years they are forced to attend Hornbeacon High.
The city can longer fund the girls homeschooling, nor can the family afford it, together they must venture the real world of stares, nasty comments, cruelty and obstacles they have to overcome.
Will they make friends? love! could it even be a possibility?
The girls realise they have to make a heart wrenching decision not only for the family but for themselves.
Easy money
If I owned a pistol i could rob a bank.

I could stick a gun in a teller's face

and demand a stack of cash

then motor off in a stolen Maserati.

I could sell drugs to kids on the street corners

or pimp out girls to the highest bidder.

I could break and law I wanted.

If they imprisoned me,

they'd have to lock up Tippi too,

which is false arrest,

Illegal,

and would never stand up in a

court of law.

If I didn't have this damn conscience,

we'd be rich.
I loved this verse (above) It made me laugh at the thought, she has a point, how would that work?
My thoughts,
I loved this book, i have never read anything like this before and it was thought-provoking. I had never thought of things such as when one of them is ill, the other stays in bed until recuperation, or what if one of them falls in love? If one drinks alcohol, will the other get drunk? There were times during this book where i would stop reading and do a thinking pose like J.D from Scrubs and ponder.
This book has made me want to learn more about conjoined twins and the effects on their lives, if anyone know any other books like this let me know, even if its non fiction.
Characters:
The parents – I felt no connection to the parents whatsoever, it felt like they had given up, What with the father being made redundant, depressed, and an alcoholic. The mum was overworked in a bank. However saying that it does show you the effects and costs,strain that it can have on families.
Yasmeen – has her own problems and with that she has become hardened to bullies, the twins need a friend like this
Grace was they shyer of the two whereas Tippi was most outspoken and bitchy.
Jon – I felt no connection with him at all, I  just felt he was in the story as Sarah Crossan wanted to touch on the subject of love.
Dragon I felt sorry for as she was having to fend for herself in the sense that her parents couldn't afford ballet lessons so she had to find alternative ways to carry on with her dance,
This is the first book that I have ever read in verse and it was so different, easy to read and quick. the book is 430 pages and read this in less than a day.
Its told in Grace's POV, however it would have been nice to hear from Tippi too.
Sarah Crossan touches very slightly on other subjects but doesn't delve deep into them.
She also shows you that these 2 girls have such a bond that if the possibility of separation was an option they would refuse, despite the health scares, remarks and challenges they will come across.
Overall I rate this book 4 out of 5 stars