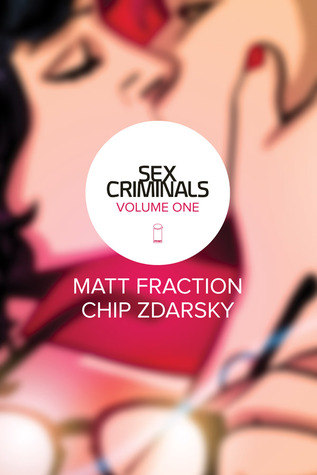 Author: Matt Fraction
Artist: Chip Zdarsky
Published: 29th April 2014
Publisher: Image Comics
Genre: Graphic Novels
Date read : 10.09.2015
Sypnosis from Goodreads
Suzie's just a regular gal with an irregular gift: when she has sex, she stops time. One day she meets Jon and it turns out he has the same ability. And sooner or later they get around to using their gifts to do what we'd ALL do: rob a couple banks. A bawdy and brazen sex comedy for comics begins here!
My Thoughts:
When I saw this making the rounds on booktube, I thought I must read it, it sounds amazing and nothing I have never read before. It appears graphic novels and comics are popular once again.
First of all I want to mention just how amazing the artwork in this book is and the colours are so pretty as can be seen above.
I had to read this twice as I just wasn't sure first time round,  I took my time reading this once again and I stand by my initial thoughts that this book is ok but could be better.
The story just jumps all over the place, you will be reading about current happenings and then it will jump to the future and I was just like huh! whats going on? and getting very confused! (it's not difficult)
I didn't feel any connection with the main characters John and Suze they just meet  at a party have sex,  realise they can both stop time and John reminiscing on the first time he realised he could do it.
The premise of the books sounds great and had me hooked but it was just ok. – John and Suze find that they can both stop time when they climax, so they make a plan to rob the bank to fund the library that is closing down.
There is also a part that refers to all women in the sex industry must have been abused in there younger days which I found very stereotypical, not funny and could be offensive to some readers.
Also there is sex police! Yes you heard me right! SEX POLICE!!
The humour on this novel was very crude or could be called 'Bathroom humour,' there is a lot of sexual content and pictures so if you are easily offended this is not the book for you.
So overall this book was just MEH! It had it pro's but unfortunately was outweighed by the cons. I am not sure if I will be continuing on with this series, I think I need to see what other people think first.
I rate this 3 out of 5 stars.