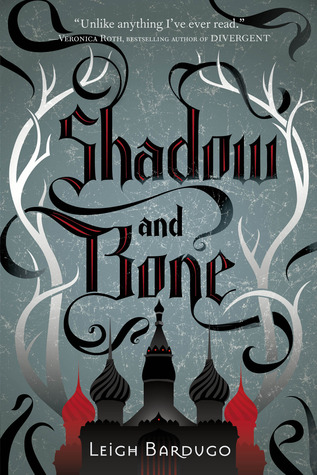 Author: Leigh Bardugo
Publisher: Indigo
Published:  5th June 2012
Genre: YA, Fantasy
Source: Library
Date read: 12.09.2015
Sypnosis from goodreads:
Surrounded by enemies, the once-great nation of Ravka has been torn in two by the Shadow Fold, a swath of near impenetrable darkness crawling with monsters who feast on human flesh. Now its fate may rest on the shoulders of one lonely refugee.
Alina Starkov has never been good at anything. But when her regiment is attacked on the Fold and her best friend is brutally injured, Alina reveals a dormant power that saves his life—a power that could be the key to setting her war-ravaged country free. Wrenched from everything she knows, Alina is whisked away to the royal court to be trained as a member of the Grisha, the magical elite led by the mysterious Darkling.
Yet nothing in this lavish world is what it seems. With darkness looming and an entire kingdom depending on her untamed power, Alina will have to confront the secrets of the Grisha . . . and the secrets of her heart.
Shadow and Bone is the first installment in Leigh Bardugo's Grisha Trilogy
My thoughts:
I really enjoyed this book, I don't really read a lot of fantasy, however I am gradually weaning myself in slowly.
Shadow and Bone is told by Alina's POV throughout the book. The story starts off slow with story of Alina and Mal becoming orphans and meeting some Grisha and then jumps to present day and goes at a fairly good pace throughout the book.
The book is set in russian-esque setting and makes the story feel more mystical.. There seems to be magic but not a lot of mystical creatures the main being the Volcra.
The book does jump back and forward in time from when Alina and Mal were growing up to flashback and present day however the time period  in which the story is set is not clear.
There is a map at the front of the book which helped a lot with the world building as I could follow Alina on her travels. The world building I did enjoy though as again i felt i was there beside them witnessing this surreal world and the Volcra.
I had a few problems with the book:
How is the darkling 120 years old but looks the same age as Alina? There is not much of a back story to the Darkling. Yeah he lived so long because of his powers, but the book didn't delve into Grisha's life  expectancy, this is something minor but I need to know these things.
The world of Grisha is very vain and annoying, they all have to be beautiful and if their not, they have somebody who can make them *perfect* so to speak. All the clothes and the setting that they reside has to be nothing but sheer beauty and the best.
I thought Alina was annoying, very shallow and her feelings of being inept was getting on my nerves. Mal was portrayed as being a player at the start of the book but actually he is a very sweet and caring guy who will do anything for Alina
I found it a bit confusing when they called 'the unsea' the shadow fold and also the color coding caste of the Grisha was a bit too much to get a grasp of, in the end I just let it go over my head as you didn't really need to know and wasnt necessary for you to be able to follow the storyline.
This book explores love triangles, forbidden love, betrayal, Vanity, Greed and war.
There is a lot of hype around this series with even Veronica Roth the author of Divergent quoting "unlike anything I have ever read" For me personally this book is good and an easy read, however I felt it could have been written and explained a bit better.
I will definitely be carrying on with the series which are: Seige and storm and Ruin and Rising.
I would recommend this book to people who read Young adult and Fantasy lite fiction.
I rate this book 3.5 stars out of 5
P.S I used the Goodreads synopsis as I had a really hard time explaining the premise of this book.