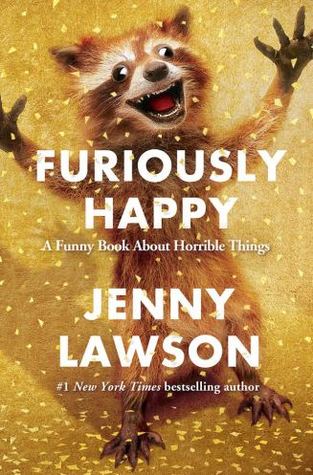 Author: Jenny Lawson
Publisher: Picador
Expected publication: 24th September 2015
Genre: Non-fiction, Memoir, Mental health
Date read: 10th September 2015
I received a copy of this book from Netgalley in exchange for an honest review.
So! where do I start! hmmmm….
This a  non-fiction memoir about a woman, Jenny Lawson who suffers from mental illness, but not just one she has a whole mixed bag of mental health problems, Jenny suffers from depression, anxiety, insomnia, ADD and others.
This is her memoir of how she copes with mental health and what is like to live with these debilitating illnesses. The book is told in several short stories of Jenny's life, there are also pictures added in several of the chapters.(proof that these things really happened).
Her husband Victor is a saint that's all I can say, Jenny is crazy but in a good way crazy, she just talks about the most random things ever, but this a symptom of anxiety you over think things and you can tell by her writing.
This book is very funny, and Jenny isn't bothered about the stigma that is still attached to mental health, she is just being herself which is so refreshing.
I never heard of Jenny Lawson when I requested this book, I was more drawn to the synopsis and the amazing raccoon on the front cover. Jenny is a taxidermist's daughter and has a lot of love for stuffed animals which is clear in the book and shown with pictures.
I really could relate to Jenny as I suffer from depression and anxiety, I knew where she was coming from and when she was explaining they symptoms, I was like yes, I get that too! The book is very funny in places, but there are parts which I think are just silly!
My favourite part of the book has to be when she is trying to convinve Victor to get another cat so she can call it the 'President', her ideas are very witty and weird –  i mean who thinks of stuff like this.
Whilst this book was good and funny, I was wanting her to be a bit more serious in some parts. I wanted to know how she really felt without trying to make it humorous. And yeah I know it's a serious topic and she is trying to make it light-hearted but I feel that maybe she is still holding back on what she really wants to say.
There is a trigger warning for this book, it does discuss self harm and suicide, so if you are easily offended I would not suggest it for you. Also there is a lot of swearing/cussing.
This is Jenny's second book, first being Let's pretend this never happened and also she has her own blog called the bloggess which I will be following.
I would recommend this book for anyone suffering from mental illness or has a family member/friends that does.
I rated this book 3.5 stars out of 5.