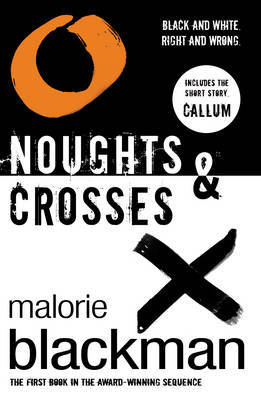 Author: Malorie Blackman
Publisher: Corgi.
Published: 3rd October 2006
Genre: YA, Dystopia
Date read: 06th September 2015
Why did it take me so long to pick up this book? This book is brilliant, I absolutely loved it. This is my first Dystopian novel and I will be definitely delving more into this genre.
For people who are unfamiliar with this genre, this is the definition: Dystopian is the exact opposite — it describes an imaginary society that is as dehumanizing and as unpleasant as possible.
This story is told from two POV's, Callum and Sephy. Callum is white and a Nought. Sephy is black and a cross. Crosses are the ruling class and the noughts are the second rate citizens. The divide between the Noughts and Crosses is very clear and strict with no mingling.
Sephy and Callum are the best of friends even though society tries to keep them apart, they start meeting up in secret and as they grow so does their love for one another.
This book covers so many topics that are thought provoking, such as racism, predujice, terrorism and more. This book is very fast paced and action packed that you will fly through the book
I loved both of the characters, Sephy was a very strong and powerful character who was stubborn but knew what she wanted. Callum was equally as strong and wanted to make a change in the world but nobody would listen.
I loved everything about the book especially the ending.Oh my god the ending! I had a lump in my throat. God I love Sephy and Callum.
"Dear God, please let him have heard me. Please.
Please.
If you're up there.
Somewhere."
This is the first of four books in the series and will definitely be reading the others which are: Knife's edge, Checkmate and Double Cross.
I would recommend this book to anyone! It really is great.
I rate this 5 out of 5 stars.
Let me know what you thought of the book. Thanks for reading, Louise x