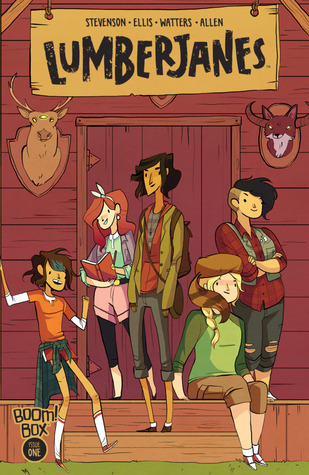 Published: #1 9th April 2014 #2 14th May 2014
Publisher: Boom studios
Genre: Graphic Novels, Comics, YA
Date read: 23.08.2015
So these are my first graphic novels that I have ever read and I thought they would be a good place to start.
There are 5 girls Jo, April, Mal, Molly and Ripley who are best friends currently residing in a scout camp – Miss Quinzella Thiskwin Penniquiqal Thistle crumpet's Camp for hardcore lady types and their motto is "Friendship to the Max".
#1.This edition is about the girls encountering an old lady outside their cabin that transforms into a bearwoman,it's past their curfew but that doesn't stop then from going to investigate and follow the bear woman into the woods. They don't find the bearwoman but they do find a group of three-eyed foxes which ends up in a mass brawl, one of the foxes disappears into dust when Ripley punches it in the eye. Once this happens the foxes howl a warning of 'beware the kitten holy'. As none of them have a clue what this warning is about they head back to the camp.
When they get back to the camp they are admonished by their bunk leader but not kicked out even though they broke eight camp rules.
I really liked the artwork for this graphic novel it was very cute and girly which I felt was right for the story, I liked how the tiles were set out too but as I read this as an Ebook I didn't feel like I could really appreciate it and will definitely be having a look at the paperback edition.
This was  really really short and so easy to read, however because it was so short, the character development was basically non-existent. All I really took away from the book was that they are friends that will be having adventures  and there will be monsters involved.
I rated this 3 out of 5 stars.
#2 The second edition to the series starts off as a normal day for the girls to obtain their Naval gauging badges, this requires them to go down the river in canoes. As they are drifting along they are suddenly swept into a current which is made by a RIVER MONSTER! This monster appears to have tentacles  which lifts the canoes out of the river and throws the girls overboard, the monster is defeated by April and a scrunchie (that's all I am telling you).
This one was so much better than the first as you start to get an idea of what the series is going to be about and it starts to delve into the character's personalities.
There was one part that let the story down, where did Jen the bunk leader go? It wasn't explained at all. I wonder if this will get answered in the third – I don't know! There is a cliffhanger to this book which will want to make you read the third.
I rated this 4 out of 5 stars.
What did you guys think of the series? What other series do you recommend? Let me know and thank you for reading.